What to Know About Ceramics
Everything you wanted to know about clay, and its other forms
What is Clay
Clay is made up of the finest rock particles that are eroded by wind and rain. These particles usually build up on the bottom of rivers and lakes where they stick together and form into clay consistency. Clay is a very versatile material and has several different states from liquid to rock-like hardness.
What is Ceramics
Ceramic is the 'final' state of clay, when its chemical composition changes after being put through a high temperature firing. Clay in this form is no longer dissolves in water, it's heat resistant, corrosion resistant but still brittle.
Important Terms
Wet Clay – mixed clay that is elastic and ready to be formed.
Leather-hard – the stage of the drying process when the clay is hard enough to be handled without altering its shape but it's still possible to work with it.
Greenware – the sate of the clay when it's dry but still not ready to be fired.
Bone dry – fully dried clay that is ready to be fired. at this stage the clay is very brittle.
Bisque – the first firing, that makes the surface porous so the surface can absorb the glaze.
Grog – a sand-like substance that's added to the clay to help workability, to reduce shrinkage and add strength.
Classes of Clay Body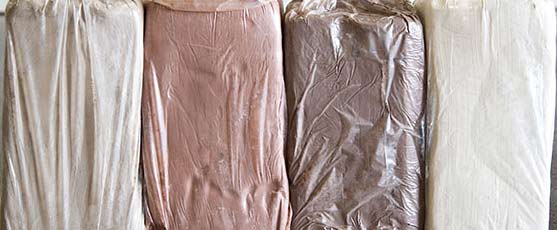 There are many different types of clays available, and it's important to chose the best for your projects, as each type has different qualities, and what works for pottery might not be the best for sculpting.
Earthenware
   
Earthenware clays are the oldest and most common type of clay. They are easy to work with, and because they contain iron and other minerals it's possible to be fired at a lower temperature (between 950°C and 1100°C). This means that they are more fragile than other clay types, can't really hold liquids if unglazed, but glaze colours are a lot more vivid than stoneware ceramics'.
Naturally they are red, orange, yellow or light gray, and once fired they have a brown, red, orange, buff, gray or white colour.
Stoneware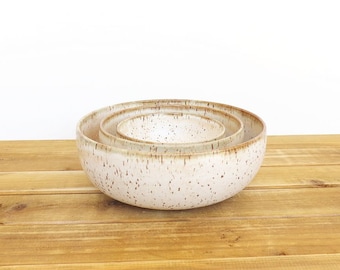 Stoneware clays share similarities with stone once fired – as in hard surface. Stoneware ceramics are excellent for functional items like dinnerware, as they can hold liquids and are more durable. Their firing temperature ranges from 1180 °C to 1280 °C. Stoneware clays are usually gray or brown.
Porcelain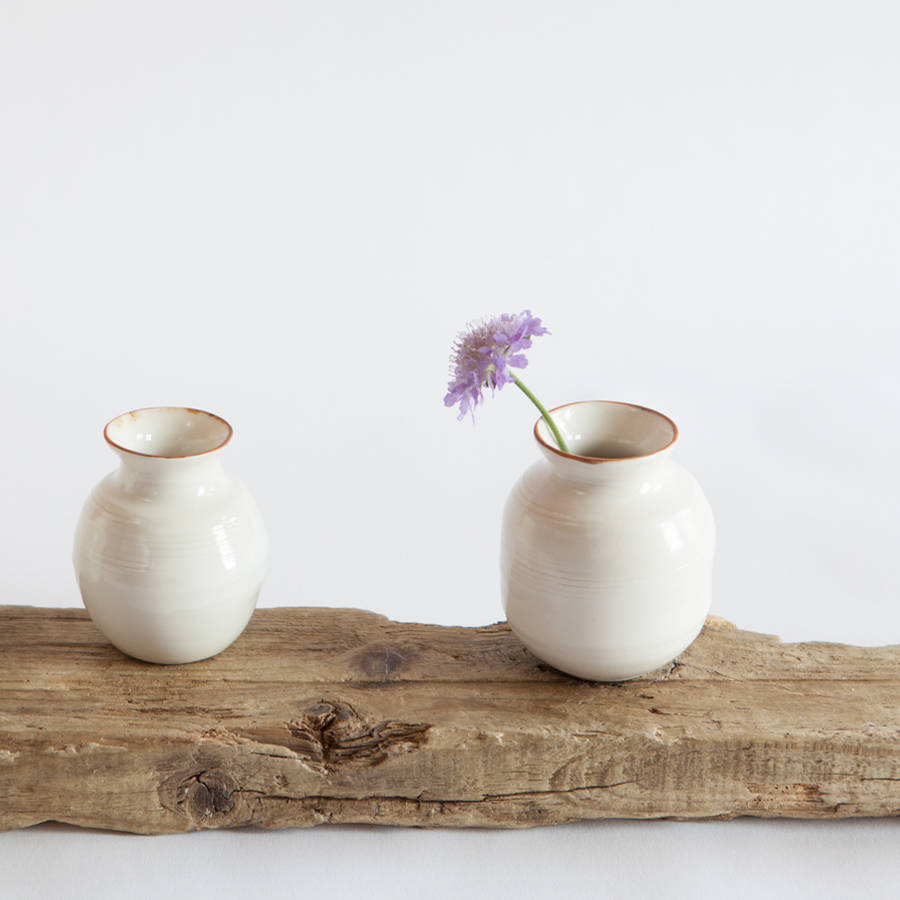 Porcelain and kaolin are considered the best type of clays for pottery. They are largely made up of silicate and are resistant to high temperatures. As porcelain is made up of fine particles, it's very smooth and can be used to create extremely thin forms. It's relatively difficult to work with because of its low plasticity. It's also quite delicate before firing as its optimum density is only achieved before its melting point. Porcelain's firing temperature is up to 1,400 °C. It's characteristically white or light coloured unless it's been mixed.
Forming
Slab Building – Slab building is a technique where the clay slabs are rolled or pounded flat in order to use them for constructing objects.
Hand-building – Hand-building is quite literally forming objects out of clay with your hands. Clay portraits are a good example of purely hand-made forms.

Coiling – Coiling is a good beginner technique that's suitable for both pottery and sculpture. Coiled pots are built up with rolled up clay in a spiral. Read more 
Throwing – Throwing means the technique of using a pottery wheel that keeps the clay spinning, thus making it possible to create symmetrical vessels.

Firing
There are two main types of firing, Bisque firing and Glaze firing. Bisque firing is the first firing the clay goes through after it reached the 'bone dry' stage. During bisque firing all the chemicals and organic residue burn out of the clay. After this first firing the clay becomes ceramic; it hardens into a rock-like consistency that's no longer dissolves in water. Its surface becomes porous, perfect for the glaze to adhere to.
Shrinkage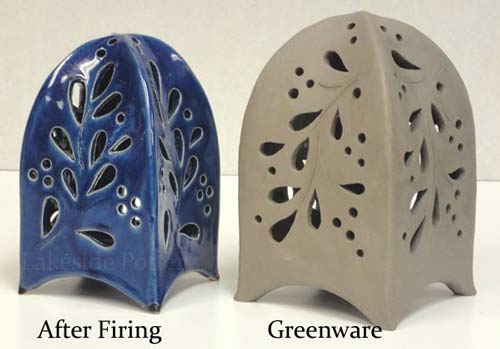 It's worth knowing that clay shrinks when it dries and then when it's fired for the first time. Shrinkage depends on the specific type of clay and can vary between 4% to 15%
Glazing
Ceramic glazes come in many different colours and types, from transparent to opaque, matt or glossy, cracking or metal effect.
While you can experiment a lot with different combinations, there are some basics to note.
Glazes are basically glass melted onto the ceramic object. In order to stick evenly to the surface, glass is mixed with different components and binders. Glazes come in powder form that you need to mix yourself and as liquids that are ready to use.
In general glazes not only add colour or 'shine' to your pieces, but makes the ceramic object vitreous, and seals the clay so it becomes able to hold liquids and depending on the glaze, food safe.
Glaze Firing
Glaze firing is usually done in a higher temperature than bisque, and it finishes the process of making a ceramic object. It's a faster firing process than bisque as by this time the clay body doesn't contain as much water; what happens during glaze firing is that the glass melts and solidifies on the object. It's important that the glazed object doesn't touch other objects or the surface of the kiln as it will be glued together. To avoid this, make sure to place each object at least an inch apart, and to leave the parts that touch the kiln unglazed. You can either use wax to leave unglazed surfaces or just wipe off the excess with a wet sponge.
If you want to try ceramics in Dundee, make sure to check out the Dundee Ceramics Workshop!
References
https://skutt.com/skutt-resources/basic-knowledge/ceramics/ceramics-101/
http://www.lakesidepottery.com/Pages/Pottery-tips/choosing-the-right-clay-type.htm
http://www.lakesidepottery.com/Pages/Pottery-tips/Throwing-a-pot-Lakeside-Pottery-Tutorial.htm
https://www.artistsandillustrators.co.uk/how-to/sculpture/252/beginners-guide-to-sculpting-in-clay