Quentin Blake
Quentin Blake, the illustrator
Biography
About Sir Quentin Saxby Blake
Sir Quentin Saxby Blake CBE, FCSD, FRSL, RDI is one of Britain's most successful children's authors, illustrators and cartoonists. He was born on the 16th December 1932 in Sidcup in Kent. During the Second World War, he was evacuated to the West Country. He attended Holy Trinity Lamorbey Church of England Primary School and Chiselhurst and Sidcup Grammar School, where his English teacher, J.H. Walsh inspired his love of literature. He studied English Literature at Downing College, Cambridge from 1953 to 1956. He has denied that studying at Cambridge University contributed to his artistic or creative talent. After his national service, he received his postgraduate diploma in teaching from the University of London. Later he studied part-time at the Chelsea School of Art and then at Camberwell College of Art. He received his teaching diploma from the Institute of Education.
Blake's First Published Illustration
Blake's first published illustration was at the age of 16, in the satirical magazine, Punch, while he was still at school. A later cover featured his illustration of a weightlifter being imitated by a dog carrying a bone. He said "I can remember getting a letter from the art director congratulating me on being the youngest contributor and I thought 'this is alright.' I started drawing for print then"
Blake's Professional Teaching Career
Blake taught English at the Lycee Francais de Londres in the 1960s, building on his strong links with France and culminating with him being awarded the Insignia of Chevalier de la Legion d'honneur at a ceremony at the Institut Francais in London, in March 2014. He also taught at the Royal College of Art for more than twenty years and was head of illustration from 1978 to 1986.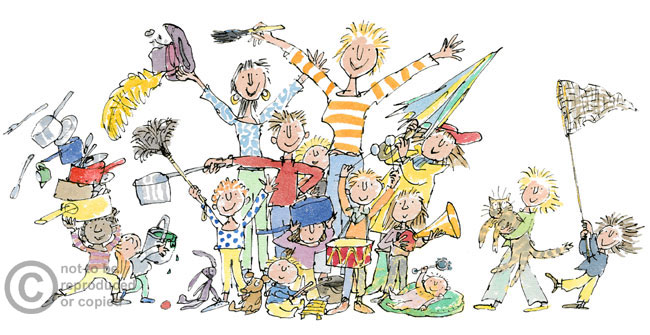 Literature's Greatest Author and Illustrator Duos
He has gone on to illustrate more than three hundred books, with authors including Michael Rosen, John Yeoman, Joan Aiken and Dr. Seuss and illustrated the first Seuss book that Seuss did not illustrate himself – 'Great Day For Up!' in 1974. Over many years he worked with Roald Dahl on some of his most well known and loved books, his illustrations capturing the essence of The BFG, Mathilda and Willie Wonka. He also illustrated and wrote a number of quirky books himself including Mister Magnolia, Zagazoo and Lovelykins.
An Iconic Collaboration with Roald Dahl
Blake met Dahl and began working with him in 1975 after a meeting set up by their publisher. Dahl had already published some of his most famous works including James and the Giant Peach, Fantastic Mr. Fox and Charlie and the Chocolate Factory. "Initially I was rather apprehensive because he was a big chap and very famous, but it was a relationship that worked" said Blake." "Because I had established myself as an illustrator, I had something to bring to it."
Storytelling and Stamps
In the 1970s Blake presented more than one hundred and fifty episodes of the BBC children's storytelling television show, Jackanory, where he would illustrate the stories as he was telling them. In 1993, Blake designed that year's Christmas postage stamps, based on Charles Dickens' novel, A Christmas Carol.
 Memberships and Associations
He is a member of the Chelsea Arts Club, patron of the Blake Society – Downing College's arts and humanities society and patron of The Big Draw, a registered UK charity aiming to get everyone drawing and demonstrating that drawing is a life skill, an essential tool for thinking, inventing and communicating.
 Accolades
Included in his accolades are the J.M. Barrie Lifetime Achievement Award, which he received in 2008, the Hans Christian Andersen Award for Illustration from the International Board on Books for Young People for his services to children's literature, while he was Children's Laureate and an honorary degree from the Anglia Ruskin University in Cambridge.
In 1988, Blake was given an OBE, in 2014 a CBE and in 2013 he received a knighthood at Buckingham Palace for his services to illustration.
Blake's Art Projects 
As well as illustrating books, Blake also works with hospitals and mental health units, decorating buildings with his drawings. "It's a different kind of brief, a different kind of audience. A lot of pictures I do in hospitals are to cheer up gaunt surroundings" he said. In 2007 he designed a huge mural on fabric. It was suspended over a dilapidated building directly opposite the entrance to St. Pancras station in London. The painting of an imaginary welcoming committee greets passengers arriving on the Eurostar high-speed railway.
Blake also negotiated the House of Illustration project aimed at opening a gallery dedicated to illustration. The gallery was opened in 2014 near to King's Cross in London.
Even though Blake is one of the UK's most beloved artists, he still has his critics and one criticism levelled at him is that his illustrations are so constantly upbeat. "There are a lot of smiles about, it's true." he admitted. "People have come up and said 'Thank you for your work' and 'joy' is the word they've used, but I've also reproached for it being too cheerful. But if you add a smile, it doesn't make it necessarily joyful."
Article written by Mary Aitken